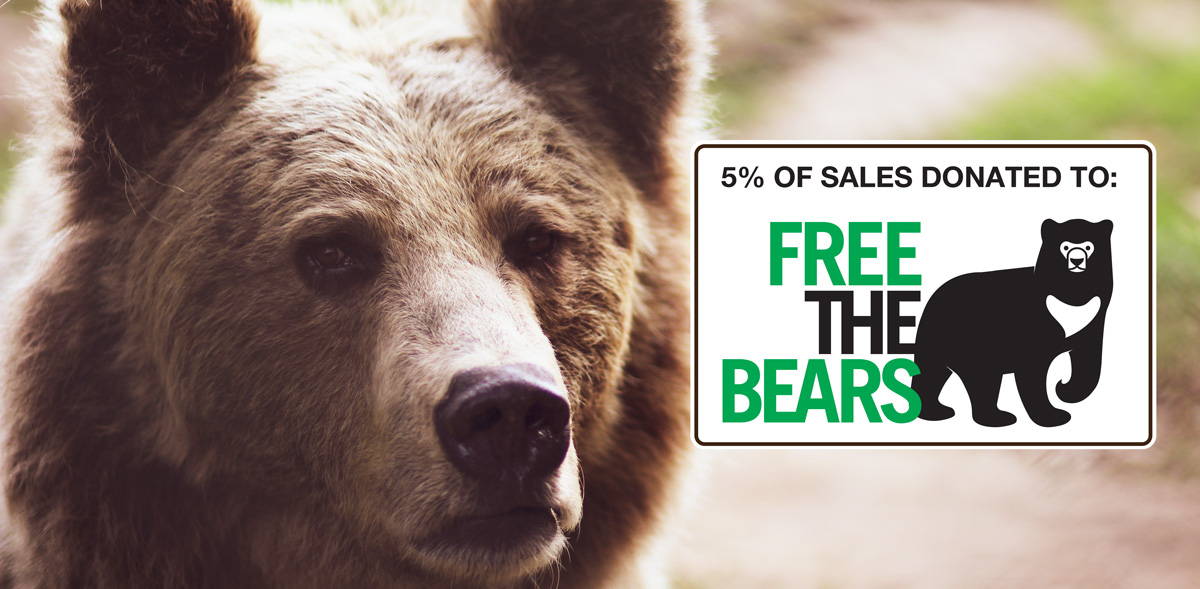 Free The Bears UK and Brown Bear Coffee – An Ethical Partnership
Humanity's relationship with nature has always been something of a double-edged sword, and throughout the centuries we have in equal parts been awestruck by the beauty and wonders of the natural world whilst also exploiting it for our own means. Unfortunately, this has facilitated the unfair treatment of countless animal species for centuries – including bears.
It's high time that action is taken to reverse this history of exploiting animals, by actually making meaningful and positive contributions to the lives of the magnificent creatures we co-exist with on the planet.
These changes are often initiated at the grass-roots level, with individuals who are concerned with the impact we are having on wildlife forming charities and organisations in order to protect them. However, for these to have any long-lasting impact, it's essential that they are supported by businesses, companies and people in general.
This is why at Brown Bear Coffee we are beyond excited that we have created a partnership with Free the Bears UK.
By donating 5% of all of our sales to Free The Bears UK, these proceeds are used to rescue vulnerable bears in South East Asia.
Brown Bear Coffee has donated over £21,000 to Free The Bears UK since June 2020.
The Story Behind Free the Bears UK
It's a sad reality that animals have long suffered at the hands of humans who have prioritised economic gain and profit margins over compassion and love. Mary Hutton was watching a television programme one day in 1993, during which she witnessed for herself the horrific treatment of moon bears in bile farms in South East Asia. Upon further research, she realised that thousands of these beautiful creatures were held in coffin-sized cages, unable to move, and dirty catheters were inserted directly into the gall bladders in order to 'milk' their bile.
Seeing just how terrible the situation of these bears were, Mary Hutton wasted no time and leapt into action, campaigning tirelessly so that she could raise awareness of the plight of moon and sun bears. Through her dedication and commitment, the word began to spread, and people began making contributions to her cause.
Since the birth of the Free the Bears Charity in 1995, sanctuaries have been built in Cambodia, Laos and Vietnam. Centuries old traditions which had long been using bears as commodities have been challenged and abolished. Through the work of this charity, they have been able to give hundreds of bears a life of tranquillity and peace, free from pain and suffering.
However, Free the Bears does not merely rescue bears and raise them in sanctuaries. The people working for this charity strive to address the root causes for this problem and implement permanent changes to society's relationship with bears so that, eventually, the day can come when bears can live in the wild without fear of capture or interference. Some of the most serious threats faced by bears include deforestation and loss of habitat, the illegal wildlife trade as well as bile farming.
Free the Bears works with communities, organisations, educational institutions, governments and researchers in order to educate people and introduce long-term societal changes. Adapting their approach to the unique challenges and circumstances of the countries they work in, the message of Free the Bears is clear. Bears have long been robbed of the chance of living a life of freedom in their natural habitats, and it's time that we strive to protect and preserve these magnificent creatures so that they can live the life they deserve, and have been denied for so long.
Brown Bear Coffee is a company committed to freshly roasting aromatic and delicious coffee to the highest of standards and at a competitive price. Each stage of the coffee-making process is painstakingly monitored in order to ensure that the coffee you receive meets every standard of excellence. From sourcing and selecting the coffee beans (according to the season's best picks, of course), to roasting and packaging them in our BRC accredited roastery based in the UK, our love for coffee means we want to give you the optimum coffee experience.
On each of our delectable coffee products, you'll find an adorable brown bear drawing. This is a reflection of our dedication to creating flavoursome and luxurious coffee brews, the unmatched quality of our products as well as the thought and care we invest into everything we do. This distinctive brown bear symbol also represents a connection to and appreciation of nature.
As a company, we believe that we have a social responsibility to play a role in these conservation and environmental efforts. Indeed, it's our social responsibility to give something worthwhile back to the natural world from which we harvest our precious coffee beans. This is why we have formed this wonderful collaboration with Free the Bears UK. As an ethical company, we want to do something worthwhile, and we couldn't think of a better way except for create a platform through which ourselves and our amazing customers can make a difference.
Through making the decision to purchase our products, you are not only treating yourself to a deliciously irresistible cup of coffee, but you are also playing your part in making the world a kinder and more compassionate place. Free the Bears UK has rescued countless vulnerable bears in South East Asia, with 950 bears having been placed into sanctuaries. With your help, we have already donated £8,691 to Free the Bears UK since June 2020.
Bringing about change is like dropped a pebble into the ocean – or a coffee bean into a glass of water. The ripples start at the centre, but as they radiate outwards they gradually become bigger and bigger. When you purchase some coffee from us, you are helping to give bears a new lease on life, one where they are happy, at peace and free. Each contribution therefore adds up, becoming a part of a positive force for change and helping the world to become a better place – for everyone.